Is this your first time here?
HCC Moodle accounts are created within 48 hours from the time of registration. Acceptance to the College without registration does not generate a Moodle account.
LOG IN with your HCC Username and your 6-digit birth date as your temporary password. If you do not know your HCC Username, access WebAdvisor from the drop down menu on Haywood Community College's website at https://www.haywood.edu. Once at the WebAdvisor homepage, select "What's My User ID?"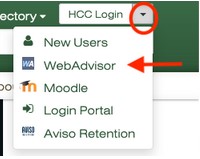 After logging in to Moodle, change your password in Preferences. Moodle is independent of your other HCC accounts. Your password will only be the same as other accounts if you set it as such after logging in to Moodle.

Note: If using the "Forgotten password" link, password recovery information is sent to your HCC email, as this is the email address associated with your Moodle account.
If unable to log in to Moodle, contact the Moodle Help Desk at (828) 627-4619 or moodlehelp@haywood.edu. To expedite password resets, please have your Colleague ID # available. This number is associated with your HCC student account and can be found when logged in to WebAdvisor and on our course schedule.